SpeedTools Utilites Manager

Only .

Buy Now

At the heart of the SpeedTools Utilities suite is the SpeedTools Manager application. A scalable utility management system which provides a single, organized access point to launch SpeedTools components, view user guides and monitor updates.

The SpeedTools Manager application is flexible too. Its been designed to provide seamless integration with Intech's installer and update programs giving you the ability to add, remove and update individual utilities in the manager application on demand!
The SpeedTools Manager Application Main Window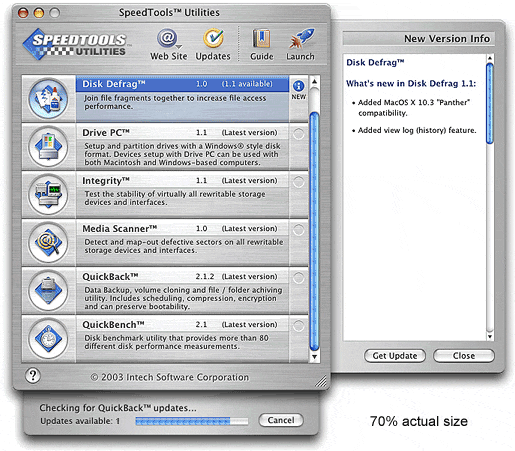 Software Update Notification
Software's greatest strength is also it's greatest weakness: updates. If you are reading this page, you obviously have an internet connection. Well, we at Intech have put your internet connection to good use by taking the hassle out of trying to keep up with the latest releases. The SpeedTools Manager application offers automatic version checking for each utility component. (For those of you with dial up, don't worry: checking for new versions can also be done manually, too.)


When a new version becomes available, a small letter 'i' with the word "NEW" underneath will be visible in the top right corner of the utility list item (as show above). Simply click on the 'i' button and a drawer window will open with all the details of the new version!


| | |
| --- | --- |
| | Option to disable automatic update checks. |
| | Option to automatically close the Manager application with a selected utility launch or to keep it open. |
| | View Utility Component User Guides on the fly. |
| | Provides built-in URL links to key areas of Intech's Web Site. |
| | Free Updates for Life! (via download) |

| | |
| --- | --- |
| | MacOS X (10.2 or later) |